The world is filled with tons of different people. With so many different cultures, religions, and nationalities it can often be hard to fully grasp the concept of just how many contrasting people there are out there. Needless to say it, with over 7,5 Billion people on the planet, it makes sense that there are a few very bizarre stories of people you would never believe actually exist. Some people have heroic stories, others have heartwarming stories, and some stories are just downright weird. If you want to spice up your life with a little shock-value this list of people will certainly do the trick. Here are people you won't believe actually exist. here are the most unbelievable and true cases of women who really exist & have to be seen to be believed!
ANNIE Hawkins -The woman with the BIGGEST breasts in the world
If you struggle to find a bra to fit your ample cleavage, spare a thought for mum-of-two Annie Hawkins-Turner from Atlanta, Georgia.Hawkins-Turner, 57, measures a whopping 102ZZZ, and it's not just bra shopping that she finds difficult.Her breasts weigh a whopping 65 pounds each, and are still getting bigger.
Contravensioal : however Hawkins would be she won't have it enough like this Russian Model who has put internet under fire due to this footage :
https://www.youtube.com/watch?v=PhB_zD-RA8o&feature=youtu.be
Julia Günthel aka Zlata – Most Flexible Woman In The World
For many of us, simply bending over to touch our toes can be a difficult. But it's not a problem for the world's bendiest woman Julia Günthel aka Zlata (27). Russian-born Zlata can twist herself like a snake into the most extreme poses imaginable – and has broken numerous world records for her flexibility. The former gymnast, who is 5ft 8in, is so flexible she can cram herself into a 50cm squared box.
Maria Jose Cristerna – The Woman With The Most Tattoos And Body Modifications, The Vampire Woman
"All I did was bring what was in me out. It's what I always was beforehand," says Cristerna i "I could breathe, as many women can breathe when they wake up in the morning and have a coffee without feeling as if someone is going to squeeze their throat."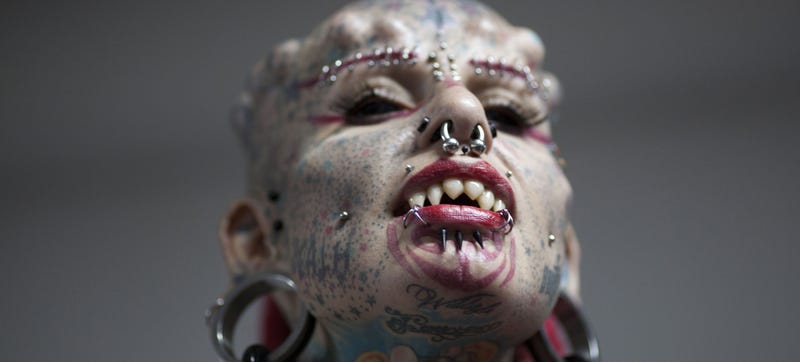 . Noorsyaidah – The Wire Woman
From Indonesia.
Metal wires about 10-20 cm long grow from the woman's body (see pic on the links below). Skeptics initial thought must be 'self-inflicted', but doctors have dis such suggestions, and have given up on providing scientific/medical explanations.The lady has had this problem for 17 years, and currently being investigated by the Ministry of Health. Initial consultation with doctors and specialists found that the wires are also inside her body. At this stage, there were no current medical explanations/case exist, hence, only 1 other possibility remains.. voodo/black-magic.
Asha Zulu Mandela – World's Longest Dreadlocks
The woman with the world's longest dreadlocks has found love with a hair stylist whose massive dreadlocks rival her own.Now the 50-year-old, from Florida, has found a match made in heaven with new husband, Emmanuel Chege, a qualified hair stylist from Kenya.