Donald Trump has re-tweeted a photo of himself "eclipsing" Barack Obama.
"The best eclipse ever," the meme reads, showing a picture of the grinning US President, in full colour, moving in front of an image of the former President, who is shown in black and white.
It came after Mr Trump tweeted to say a legislative "mess" could have been avoided if Republican congressional leaders had followed his advice to tie debt ceiling legislation to a veterans affairs bill.The President went on to say "the fake news" was "complaining" about his recent speeches, before proceeding to characterise his recent statements as "sombre," "enthusiastic, dynamic and fun," and "respectful and strong"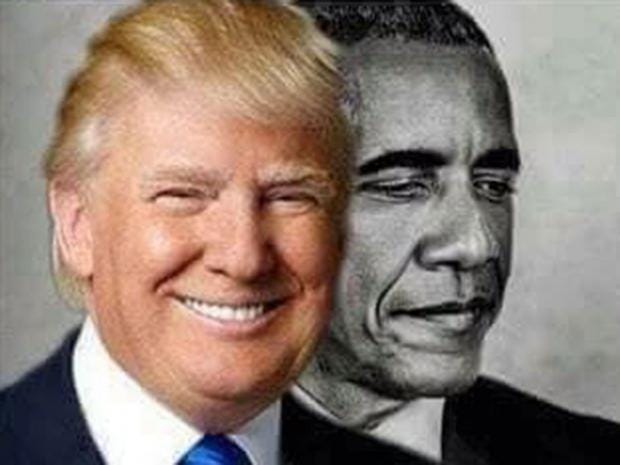 But here is why Trump won't achieve it :
Shedding Some Light:
There were 11.3 million more jobs in the US economy when Barrack left the White House than when he entered it.
When he entered the White House, the US Economy was in recession and bleeding jobs at a rate of 750,000 per month. It took six months for his policies to take effect with a total of 4.3 million jobs being lost until he was able to halt the trend.
Once he  was able to halt the trend, there was a record 76 consecutive months of job growth.
So under his Presidency, 4.3 million losses first had to be made up; then his policies added the further 11.3 million jobs that were created giving a total 15.6 million jobs created under his presidency. Source: CNN
When Barack was sworn in as President, the U.S. stock market was in free fall. The financial crisis was in full swing following the collapse of Lehman Brothers and the Standard & Poor's 500 index, a popular measure of the U.S. stock market, closed at 805 points on Inauguration Day.
Eight years later, the S&P 500 index has risen to 2,274 points after one of the great bull runs in stock market history. With Obama as president, the U.S. stock market, as measured by the S&P 500, returned 235%, or 16.4% annualised. -Source: Forbes
So even Donald's attempted claim to have turned around the US economy ( which would be Donald's only achievement to date) is false given it was doing pretty well when he entered office.
The reality is Donald has not passed a budget (or anything else) since he has been in office.
Donald is basking in the sunlight of Barrack's economic policies.